When it comes to keyword rank tracking software, what are my top recommendations?
If you just want tracking your keyword ranking in search, you can either go with SE Ranking or Mangools.
If you do know knowledge of SEO or digital agency i recommend SEMRush it give In-depth analysis every keyword, competition keyword ranking and much more.
Keyword rank monitoring is essential for knowing how a website stands in the SERPs. Based on your target keywords, it will help you understand your website's visibility.
It's far and away the most essential SEO tool you have to invest.
As per estimates, 90 percent of content gets no organic local search traffic on Google. That, alone, demonstrates that proper keyword ranking software is required for effective SEO.
My Google rankings are the main driver of this blog, and I use a rank tracker to keep an eye on them. Of course, the keywords with higher search volumes will be identified by a good keyword tracker.B ased on current trends, long-tail keywords with four words or more have 3 to 5% higher CTRs than regular keywords.
I'll be discussing the most popular keyword rank trackers to help you gain further insight. I'll explain what each of them is good for, as well as their characteristics and pricing plans.
After that, I'll go over important keyword tracking systems and address some frequently asked queries about the topic.
Disclaimer: This article contains affiliate links that I receive a small commission for at no cost to you. You can read my full affiliate disclosure in my privacy policy.
What Is The Best Keyword Rank Tracking Software?
Here are my top 3 recommendations for the best rank tracking tool:
My Take
Javier's Take
The link checker offered by SE Ranking is a valuable resource. However, it lacks of some features compared to its rivals. The fact that the functionality functions at a lower level isn't always a dealbreaker. Ranking is less expensive than the competition, and it isn't expected to deliver in all areas.
In addition, the program includes a number of SEO ranking management tools. The backlink checking (which is critical for link building) and monitoring tool offers information on important aspects and backlinks, whereas its in-depth website audit tool might improve a site's ranking in the top ten search listings.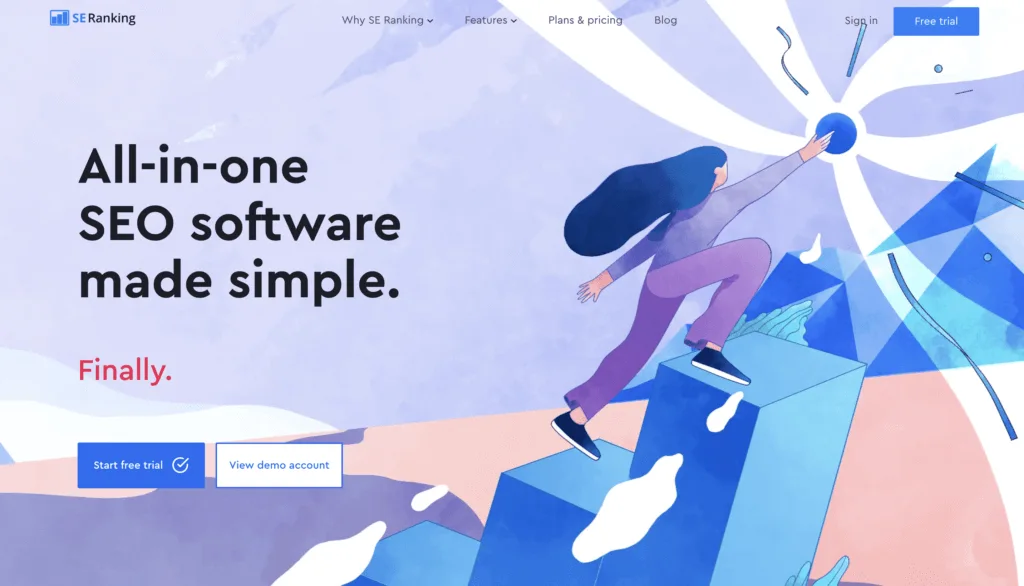 The performance of a website for SERP features may also be measured using the SE Ranking. You may include up to five opponents, track rankings, and check how your site performs on Google, Bing, Baidu, and Yahoo.
The platform will provide insight into the top search results even if you don't know your competitors, allowing you to get an idea of who they are.
Features
SE Ranking is a complete package offering all of the features and tools to help improve your website's overall SEO performance. You can use it to discover ads and keywords competitors use in their paid and organic search campaigns.
Here is a list of features SE Ranking has to offer:
Alerts when modification on site
Keyword suggestion and grouping
Backlink monitoring
SEO reporting tool
Social media management
Offers API
Pricing
SE Ranking has a custom pricing structure where the amount you pay will depend on factors, such as frequency of tool use, length of the subscription period, and the number of keywords.
You may opt for a plan of one, three, six, and nine months, or a year, and choose the required ranking check frequency.
That said, here's a breakup of SE Ranking's pricing plans:
1. Essential price plan at $24.8/month
Up to 15,000 keyword checks
Monitors performance of up to ten websites
Website audit for 35,000 pages
2. Pro price plan $56.8/month
600,000 keyword checks
Monitors performance of unlimited websites
Website audit for 200,000 pages
3. Business price plan at $120/month
1,500,000 keyword checks
Monitors performance of unlimited websites
Website audit for 550,000 pages
The software also offers a pricing plan calculator to help you decide which plan to choose and they offer a 14-day free trial.
What I Like/Dislike About SE Ranking:
I like
SE Ranking's user interface is extremely simple to utilize for individuals unfamiliar with SEO or SEO consultants who have more experience. In comparison to other SEO software, SE Ranking is straightforward to utilize, and I like the short descriptions of each tiny feature. Two of my favorite tools within SE Ranking are website auditing and keyword research, and they're what I use every day.
Dislike
Other platforms, which offer additional features, are less sensitive than SE ranking. In a site audit, SEMrush and Ahrefs deliver substantially better results than Seranking. Some platforms (Amazon) offer more search value, whereas others offer more social value.
Javier's Take
SEMRush is a trustworthy digital marketing tool that SEO experts may use to assess their position or keyword rankings. It tracks the rankings of any domain, URL, or subdomain for the keywords that are tracked daily and collects data from Google. As a result, it is one of the most trustworthy rank monitoring applications available today.
On both mobile and desktop, the information assists you monitor your website's position at the municipal and national levels. You may also determine which keywords activate which SERP characteristics and whether or not your domain ranks on the right search engine by filtering the data using any of them.
In organic search, SEMRush can also help you identify your true opponents. All of the domains that rank for target keywords are organized by level of visibility in the Competitors Discovery Tab.
Features
SEMRush categorizes and assigns keywords to relevant groups, allowing websites to rank, keyword
The Best rank tracker tool, it also shows a more focused picture of your SEO ranking by filtering reports based on tags.
This is a brief list of features SEMRush offers:
Accurate local map pack rankings
Keyword segmentation
Backlink Analysis
Discover essential competitors
Reports on worldwide rankings
Alerts in case of crucial position changes
Pricing
Whether you're a novice marketer, SME, marketing consultant, or big business or organization, SEMRush offers subscription plans to meet your needs. You can save up to 17% less for purchasing annually.
1. Pro Plan at $119.95/month
Five projects
Tracks 500 keywords with daily updates
Up to 3,000 reports per day
2. Guru Plan at $229.95/month
15 projects
Tracks 1,500 keywords with daily updates
Up to 5,000 reports per day
3. Business Plan at $449.95/month
40 projects
Tracks 5,000 keywords with daily updates
Up to 10,000 reports per day
You can cancel, downgrade, or upgrade your plan at any time, if you want to. If you complete it in the first seven days, SEMRush promises to give you a full refund.
What I Like/Dislike About SEMRush:
I Like
All of your digital marketing tasks can be done flawlessly with this one tool, which has a slew of cool functionality. So, if you have errors or issues on your website, using the site audit tool is a fantastic idea.
Display
Everything is fine, except for the fact that their keyword magic tool only provides the keywords that our rivals are using. And the cost is rather prohibitive.
Javier's Take
Bloggers, affiliate marketers, SMEs, and SEO agencies will benefit from Mangools' SEO toolset. Because of its design and ease of use, it's especially popular software.
Keyword Analysis, competitor analysis, backlink analysis, SEO ranking tracking, and SERP tracking are all important features.
Features
Mangools SEOs tool may see rivals' rankings for major keywords, discover keyword ideas based on historical search volumes and patterns, and use the Mangools keyword tool. Marketers can adjust the content on their websites accordingly and get more organic traffic by accessing search results for over 50k locations.
By using a thorough SERP preview with authority statistics and SERP characteristics that influence the click-through rate, Mangools SERP analysis software can tell how difficult it is to rank on the first page.
Daily rankings, aggregate metrics, and interactive shareable ranking reports are all available with the Mangools rank tracking tool.
Backlink analysis can be done via their other tool that calculates the link strength, categorizes backlinks and shows a website preview to evaluate the potential of the referring websites.
Find the right keywords
See SERP for any location Track your rankings
Find powerful backlinks
Check competitor's website authority
Pricing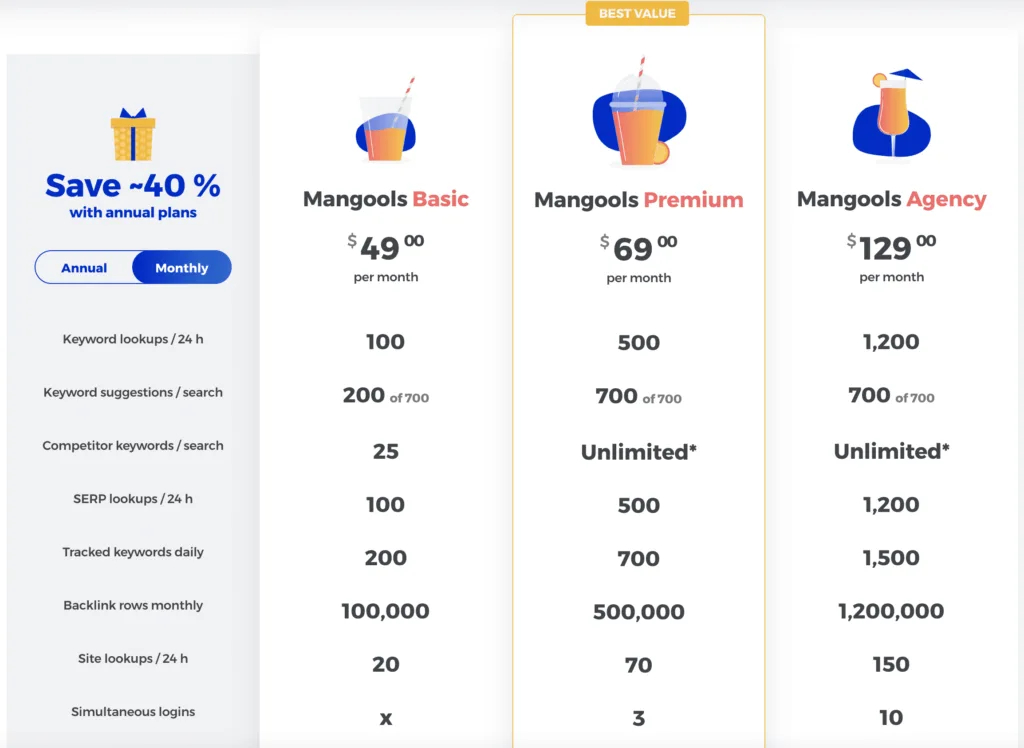 1. Mangools Basic Plan at $49/month
Annual plan at $29.90/month
100 keyword lookups/24 hours
200 of 700 keyword suggestions/search
25 competitor keywords/search
2. Mangools Premium Plan at $69/month (Best Value)
Annual plan at $39.90/month
500 keyword lookups/24 hours
700 of 700 keyword suggestions/search
Unlimited competitor keywords/search
3. Mangools Agency Plan at $129/month
Annual plan at $79.90/month
1,200 keyword lookups/24 hours
700 of 700 keyword suggestions/search
1,200 SERP lookups/search
What I Like/Dislike About Mangools:
I Like
Mangools is a user-friendly program that I utilize to develop personal and small business websites. Using the search feature, I was able to locate the ideal terms for using in the site's headers, SEO titles, meta parts, and other crucial locations that help your website get discovered by the right people. The other tools, such as rank tracking, SERPChecker, backlink analysis, and a site profiler, have yet to be scratched.
Dislike
The information provided is too sophisticated to interpret when investigating the link profile of a website, as it is incomplete and only displays you the bare minimum when compared to tools like Ahrefs.
Javier's Take
Nozzle monitoring your website and your competitors' SEO in Google, with in-depth details.
In the SERPs (not just your site, but also your YouTube channel and other social media platforms), Nozzle will tell you exactly where your website is. Analyzing your position in search engines is fascinating.
The data comes in such a hurry that it's fun to use the Nozzle, and considering how complex it is, this is quite amazing. You can compare yourself to as many competitors as you want with the keyword credit system. It's a really good tool. In order to better control the number of pulls you have, you may adjust how many times a keyword is tracked.
Features
List of key features:
Very detailed SERP Tracking with screenshot
Unlimited competitors track
You may organize your tracking keywords to monitor certain words daily, weekly, or monthly when you want.
If you have multiple websites or clients you can track Unlimited users at no extra charge
Track social media accounts like Twitter , YouTube and Instagram
Pricing

You may choose any of Nozzle SEO monthly plans to get access to its keyword research tools. Or, simply pay yearly to save 20 percent.
Here's a quick breakdown of its monthly plans:
Base plan at $59/Months 10k pulls
Advanced plan at $119/ onths 21k pulls
Pro plan at $299/Months 60k pulls
Pro Plus plan at $599/Months 130K pulls
Many SEO Ranking tool charge by number of keyword you track and for Nozzle using pull is used whenever you retrieve data for a keyword-engine-language-device-location combination. This combination is commonly referred to as a SERP (Search Engine Results Page). We pull data for the first 100 results. One pull = top 100 results for each unique search.
What I Like/Dislike About Nozzle:
I Like
One of the top keyword rank monitoring solutions on the market is Nozzle.io, which has a number of beneficial properties. It records the performance of keywords and brands on websites, blogs, social networks, and other online platforms using an online keyword rank monitoring tool. It provides unrestricted monitoring of the aforementioned pricing's competitors.
Dislike
Nozzle user interface UI look quite complex (and because of this, it can be difficult to comprehend), some people may be turned off by it. It will, however, seem very appealing to you if you prefer numbers and graphics like me. To keep people informed of changes in the SERP, I'd also want an email reporting system.
Javier's Take
Moz Rank Checker is a valuable keyword research tool that speeds up the process of determining a website's SEO performance for selected keywords. It has a 95 percent accuracy rate in predicting the keyword search volume for words and phrases.
Without having to commit, the platform also discovers rankings for possible keywords that you may want to monitor. To help you choose how hard or easy it is for a keyword to rank on the SERP of your choice, it provides a difficulty score for each of them. You can select the search engine you want to use to receive your ranking data from Google, Bing, or Yahoo. After that, transfer the most important keywords to the Moz Pro Campaign for long-term keyword ranking monitoring.
Features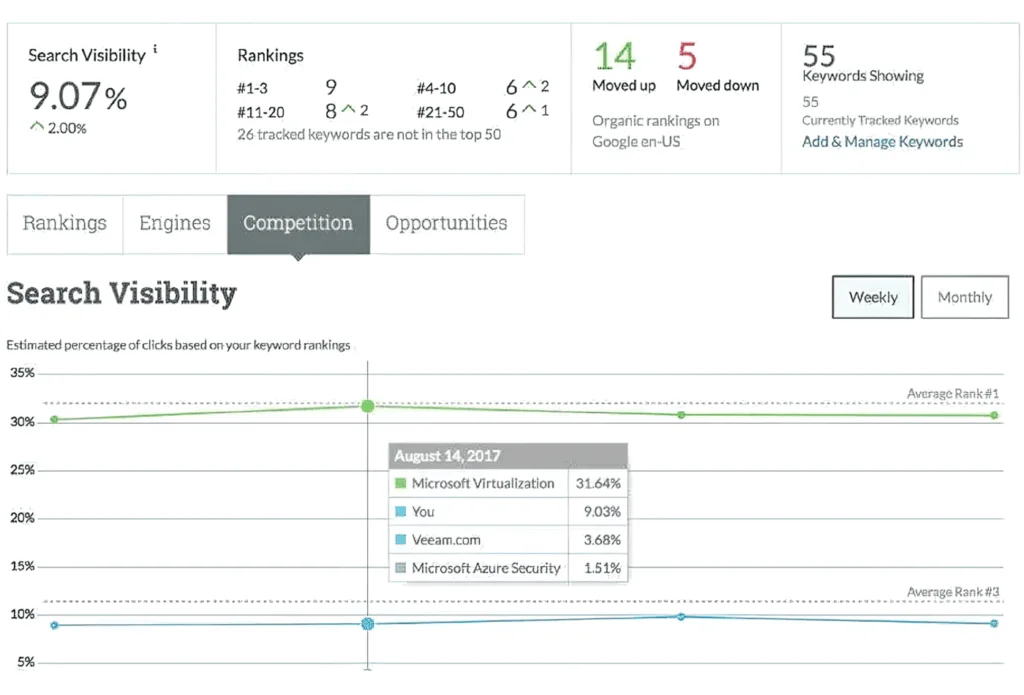 Instant ranking reports may help you choose your SEO methods using Moz Rank Tracker. Using SEO analytics, it's a dependable SEO analytics software that may assist you boost your site's rankings.
The following is a list of features Moz Pro offers:
Performs competitive keyword research
Sorts keywords using predictive metrics
Adds your SEO rank to a ranking history graph
Tracks keywords for long-term
Identifies keyword difficulty
Free SEO tools
Pricing
Moz Pro Rank Checker Pricing Page
You may choose any of Moz Pro's monthly plans to get access to its keyword research tools. Or, simply pay yearly to save 20 percent.
Here's a quick breakdown of its monthly plans:
Standard Plan at $79/month
Medium Plan at $143/month
Large Plan at $199/month
Premium Plan at $479/month
What I Like/Dislike About Moz Pro:
I Like
The keywords tracking, web visibility, backlinks count, and overall onsite and offsite SEO techniques will all be tracked by Moz Pro.
We may see patterns in our keyword rankings, what keywords to watch, competitive analysis on opponents' websites, link development, and other functions with this software. It's a comprehensive tool in general.
Dislike
Their navigation may be clearer for users. Using their data on the screen might be simpler. Charts and graphs might be more attractive. SE Ranker is a rank checking app that can be downloaded onto their phone.
Javier 's Take
For its white-label capabilities, Authoritylabs is a software most digital marketing agencies rely on. Keyword data and search engine rankings are used to monitor local, SEO, and mobile rank tracking.
Just provide the keywords, website url, and geographical areas you want to check. Daily rank checking and reporting will be provided by authority labs, which can help you know where you stand.
By monitoring search results by state, city, and postal code, it will also look into the most granular and precise data. Moreover, by adding domains or pages from any country or language supported by search engines like Bing, Yahoo, and Google, the software may help you reach a wider audience.
Features
Authoritylabs is a platform that allows agencies, e-commerce sites, and businesses to see and maintain track of their SEO performance.
The most crucial features Authoritylabs has to offer:
Custom data collection
100 percent white label reporting
Unlimited users
Tracks competitor domains
High-quality keyword data
Daily data reports
Mobile-specific rank tracker
Global rank tracking
Pricing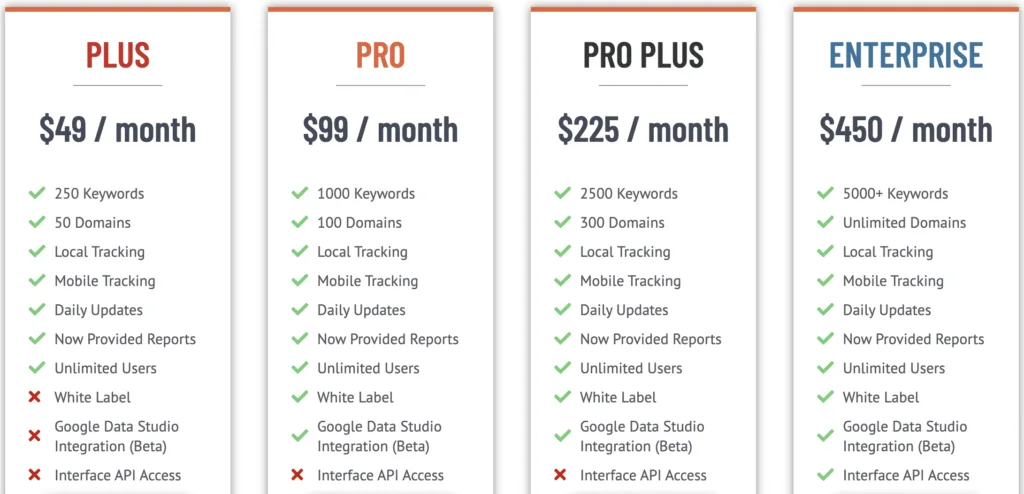 Depending on your company needs, you can select from one of the following SEO tracking solutions.You may also upgrade or downgrade your plans at Authoritylabs if you want to.
1. Plus Plan at $49/month
250 keywords
50 domains
Local and mobile tracking
2. Pro Plan at $99/month
1,000 keywords
100 domains
All features of the Plus plan
White-label reports
Google data studio integration
3. Pro Plus Plan at $229/month
2,500 keywords
300 domains
All features of the Pro plan
4. Enterprise Plan at $450/month
5,000+ keywords
Unlimited domains
All features of the Pro Plus plans
Interface API access
All of Authoritylabs' pricing plans are risk-free with their 14-day trial.
What I Like/Dislike About Authoritylabs:
I Like
Knowing whether or not a search term is relevant for paid or organic search may be done instantly by typing it in. In the same search box from your initial search, the search also returns comparable keywords and their associated values.
Dislike
I'd want to see the ability to figure out weighted average locations and historical locations for newly entered keywords.
Javier's Take
Ubersuggest helps you discover thorough website analysis and monitor the keywords we should choose for our website, using the greatest keywords, as a keyword research and SEO optimizer tool.
To help construct strong link profiles for commercial websites, it also provides valuable insight into our competitor's backlink profile.
Features
Competitor analysis, content marketing, and social media marketing tactics are all analyzed in the Domain Overview. Keyword Suggestions volume, the competitive landscape, and even seasonal patterns for each keyword may be discovered through analyzing top SEO pages.
You can write about topics that people are really interested in by researching the top-performing content pieces for each keyword.
Pricing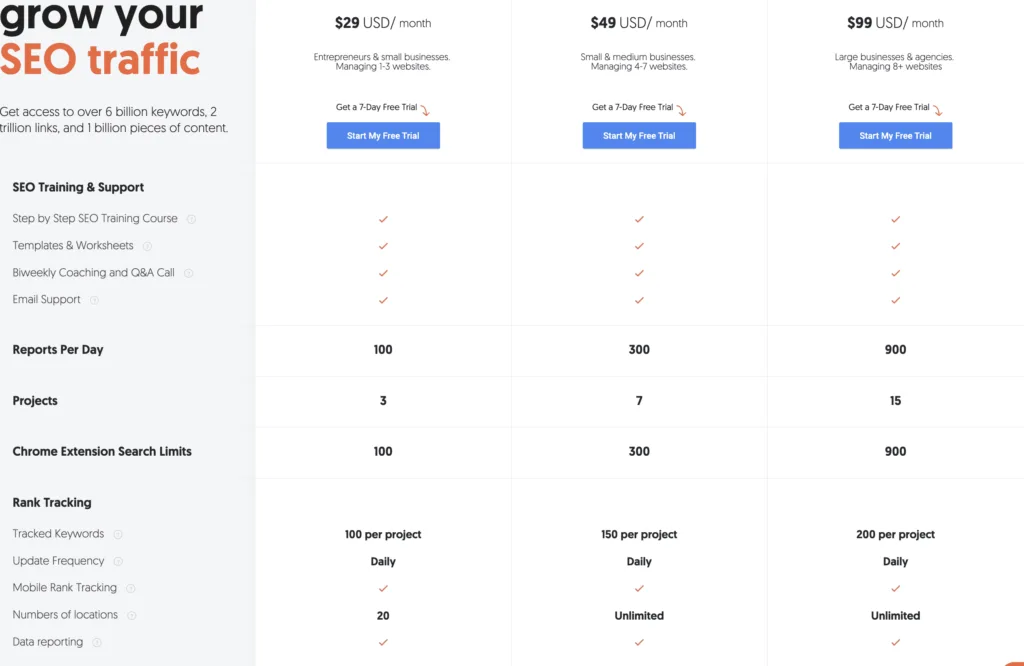 1. Individual plan at $29/month with
3 Project Website
Each project Track 100 keyword
2. Business plan at $49/month
7 Project
Each project Track 150 keyword
3. Agency plan at $99/month with
15 Project
Each project 200 keyword
What I Like/Dislike About Ubersuggest:
I Like
The most amazing thing about the Ubersuggest software is that it can show us the keywords and rankings positions of any site (and our competitors') we insert into the search, as well as help and monitor our own business site.
Dislike
This tool isn't displaying some niche-based keywords. It should offer suggestions based on the users' interests, making it simpler for them to pick and experiment with the tool. Unlike certain competitors, it does not have a keyword traffic chart.
It does not offer live data set keyword research tool and they keyword tracking only updated daily, no option to change that.
Javier's Take
Serp Watch is simple to set up and use. we have used many seo ranking tracking tool in the past, but I didn't like how difficult it was to get started without seeing any benefit. Within an hour, I had SERP Watch up and running, with actionable information.
Since Serp Watch launch not long ago, I have face few bugs but you can contact they customer support.
Features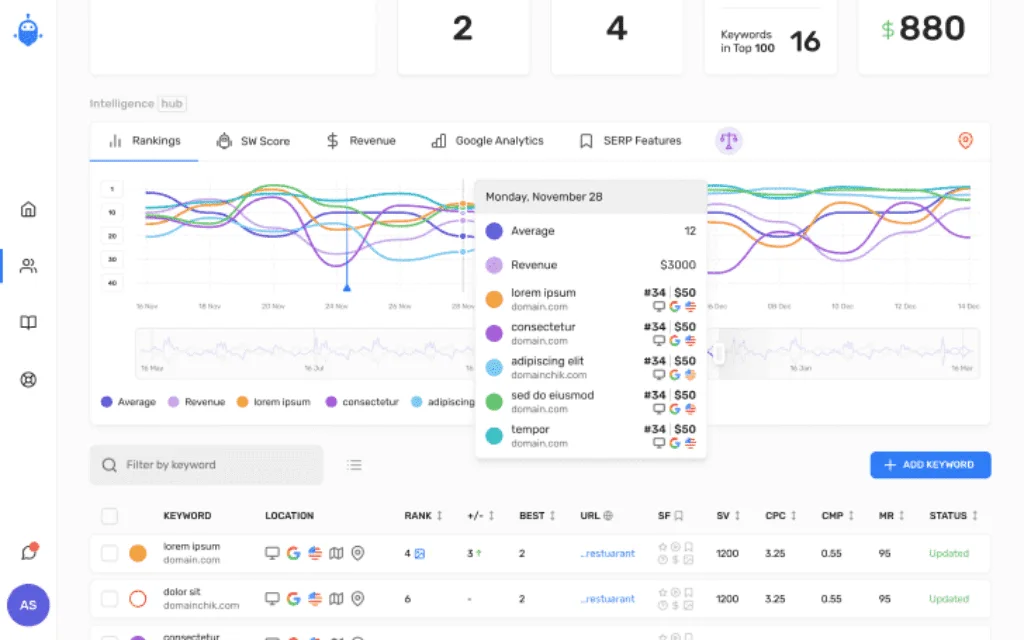 Get all keyword data in one location by analyzing your SEO activities in context. SerpWatch's SEO tracking helps you keep track of your rankings and traffic, and it also lets you optimize your SEO efforts and generate professional reports.
Here are a few of the features SERPWatch has to offer:
Tracking the same set of keywords within one project for multiple locations, domains, search engines, and devices
Comparing different SEO points on a single line graph
Google Analytics, Google Search Console, and API integration
Custom dashboard layout
Cross-project keyword tagging
Starring favorite keywords
Data verification with SERP screenshots
SERP feature tracking
Pricing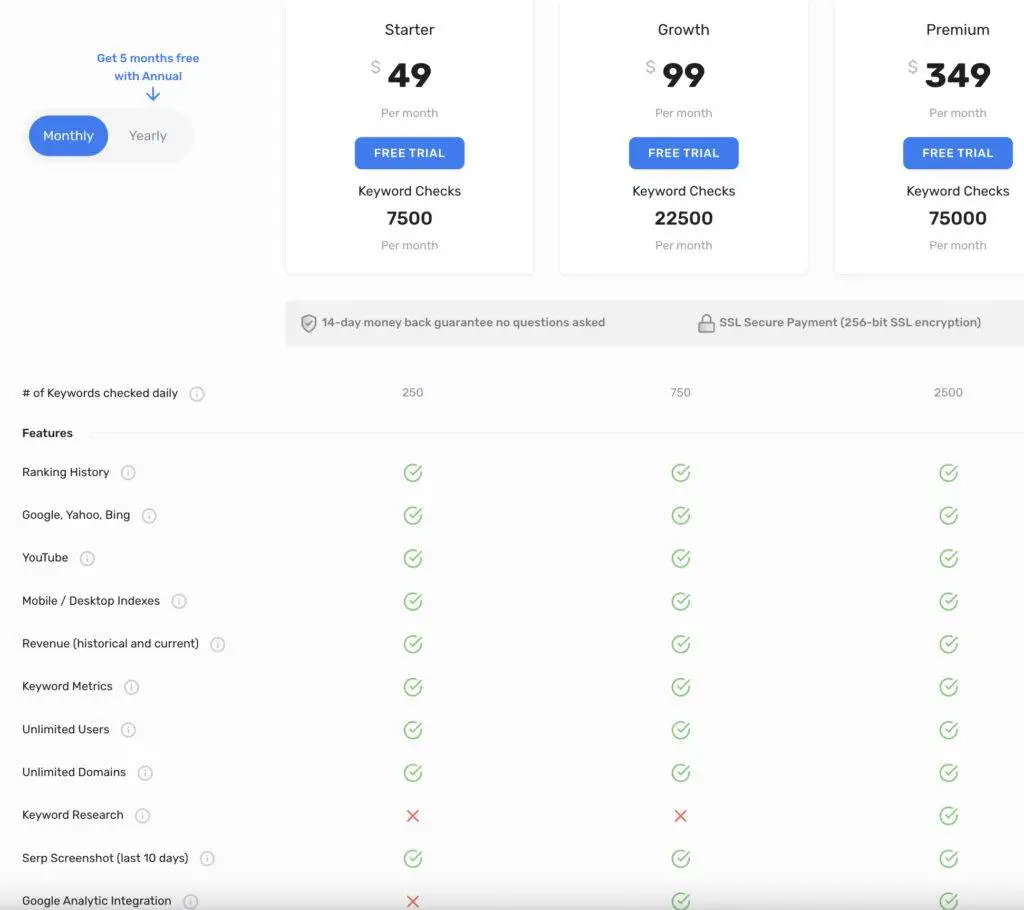 You may choose any of SERPWatch monthly plans to get access to its keyword research tools. Or, simply pay yearly to save 20 percent.
Start plan at $29/month with 7500 keyword checks
Growth plan at $59/month with 22500 keyword checks + Google Analytic Integration + Google Search Console
Premium plan at $199/month with 75000 keyword checks + Google Analytic Integration + Google Search Console + Keyword Research
What I Like/Dislike About SERPWatch:
I Like
Serpwatch is a simple but effective rank monitoring solution. One of the greatest advantages is that the UI is simple and legible.
Dislike
In the basic plan, Keyword Research was not included with SerpWatch. However, you may use an Add-On service to take advantage of this feature. A Site Audit function is not available in SerpWatch. It would have been nice to have one.
However, since their main purpose is to provide a dependable SERP rather than a Site Audit, this is logical.
Wrap Up Best Rank Tracking Software
Marketers can anticipate to see an increase in the features and SEO tools that keyword rank monitoring solutions offer as they develop.
Then choose from the following list of options if you want to improve your website's SEO performance and drive traffic and sales:
SE Ranking: Best For Real-Time Keyword Rank Tracking
SEMRush & Nozzle: Best For Digital Marketing And SEO Professionals
Authoritylabs: Best For Marketing Agencies
Moz Pro Keyword Checker: Best For Keyword Research
I'm sure you'll find a suitable keyword rank tracking platform from the list of options mentioned above.
What is SEO position tracking?
SERP tracking or rank tracking are two terms for the same thing. It gives companies insight into their websites' SEO performance for a specific list of keywords.
You may use a rank checker tool to get information and boost performance by selecting a certain geographic spot and device type.
Why are keywords important to SEO?
Search engine optimization (SEO) relies heavily on keywords. They make your website material relevant to the industry, which aids search engines like Google and Baidu understand it. As a result, it boosts the website's ranking in worldwide or local search page results.
What is rank tracking software or rank tracking tools?
Keyword ranking tracking tools help you keep track of your keywords' rankings in the SERP.
They're crucial for understanding how your whole SEO performance is going so that you can change your current material and SEO plan.
What is SEO rank Tracking?
Using a tool to monitor where your posts and pages are ranked in the SERP's is known as SEO rank monitoring. Although these tools aren't flawless, they do provide a reference point for where you stand in a given search engine.
How do you use Rank Tracker?
Rank Tracker is a powerful tool that can help you to identify the best keywords and strategies for ranking your website in the search engines.
By tracking your website's ranking changes over time, you can identify the best keywords and strategies for increasing your website's ranking.
Additionally, you can use Rank Tracker to find out which keywords are driving the most traffic to your website start using Rank Tracker, you need to sign up for a free account.
Once you have logged in, you will be able to enter your website's URL and start tracking your ranking. Rank Tracker offers a variety of reports that can help you to understand your website's ranking and traffic performance.
You can also use Rank Tracker to find out which keywords are driving the most traffic to your website. This is a valuable tool that can help you to improve your website's ranking and traffic.
Is Rank Tracker free?
Rank Tracker is not free, but it is definitely worth the price! It offers a wealth of features and capabilities that are essential for any business owner.
Some of the most popular features include keyword research, site audits, link building, and SEO analysis.
Additionally, it offers a variety of other tools that can help you to improve your website's traffic and Rank Tracker is easy to use and integrates with a variety of platforms, making it easy to use from anywhere.
In addition, it is constantly updated with the latest SEO trends and strategies, so you can stay ahead of the curve
. Overall, Rank Tracker is a must-have for any business owner and is definitely worth the price! Google Search Console is free, but is only display your website keyword is already ranking and you can't set keyword to target.
How often does tracking software that does update?
It depends tracking software you getting, some does hourly, every 6 hours, every 12 hours and most common or lower tier plan does it daily.