So What is Fashion Blogging? It is all about creating and sharing content about fashion. Whether you're a fashion lover looking to share your latest finds with the world, or you want to become a fashion expert and help other people pick the right outfit for any occasion, fashion blogging is a great way to achieve your goals.
To get started, first find your niche. Once you've identified a category that interests you, it's time to set up your blog. There are many web hosting services available that will make fashion blogging easy for you.
Next, it's time to start creating content. This content can be anything from fashion tips to reviews of brands and products.
Finally, promote your blog and grow your audience! Fashion blogging is a great way to build an online following and establish yourself as a fashion authority. So go ahead – start blogging today!
Fashion can be a fun and exciting journey, but it can be tough to figure out what you want. To start, do some research. Look at magazines, websites, and other sources to identify what you like and dont like in clothing.
Next, consider what type of fashion is popular among your friends or social circles. Once you have a good understanding of what you like, its time to narrow down the options. Think about what type of clothes look good on you, and find similar styles that you can buy or wear. Once you have a few ideas, its time to start shopping!
How to find your fashion blog niche?
Finding your fashion blog niche can be a daunting task, but it is essential if you want to make a name for yourself in the blogosphere.
After all, fashion is an ever-evolving industry, and unless you keep up with fashion trends, your blog will eventually falter. To find your fashion blog niche, start by researching fashion blogs in that specific area.
Make sure you are writing in a style that suits the tone of the blog, its design and layout, and the content itself. You can also use Google search and other online tools to find relevant sources.
Finally, pay attention to the tone of the blog, its design and layout, and the content itself. If all goes well, you should be well on your way to becoming a top fashion blogger!
Types of fashion blogs
If youre interested in starting a fashion blog, its important to first identify your personal style. Once you have a clear idea of what you like and dont like, it's time to start searching for fashion blogs that match your style. To make sure that your blog posts are of high quality, follow blogging guidelines such as being concise and providing detailed information.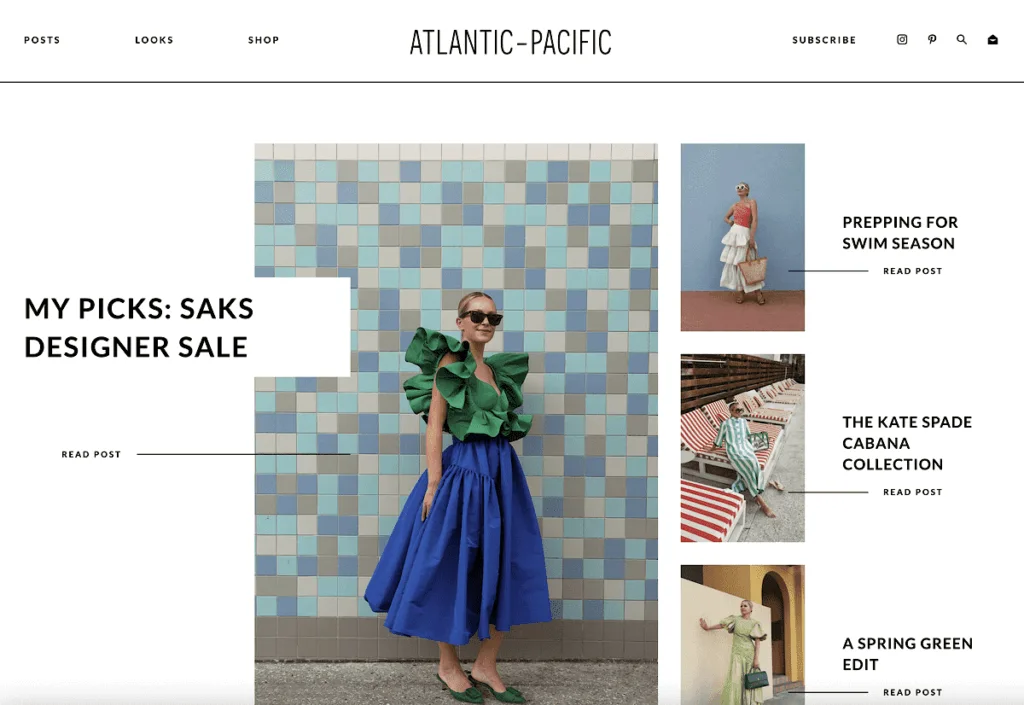 Additionally, submitting photos or guest posts can help you gain exposure and increase your reach. Building a loyal following is essential for any fashion blogger, so be sure to write interesting and engaging content that will keep readers coming back for more.
Examples of popular fashion blogs
Fashion blogging is all about being creative and inspiring others to be their best. Whether youre a fashionista or not, writing a blog is a great way to share your thoughts, ideas, and fashion style with the world.
There are a lot of different fashion blogs out there, so its important to find one that you connect with. Once youve found your blog, be sure to check out their content regularly – you might just find your new favorite outfit! Dont forget to share your blog posts on social media – this will help spread the word and increase traffic for your blog. Finally, dont be afraid to experiment with different fashion trends – after all, thats what fashion blogging is all about!
The first step in setting up a website is choosing the right web hosting service. There are many to choose from, so it's important to research them thoroughly.
Make sure to select a provider that meets your websites specific needs, such as the features and resources it needs to be fast, secure and performant.
I recommend trying Bluehost great speed and monthly plan starts at $2.95.
Additionally, make sure to select a host that is reputable and has a good customer service.
Fashion blogging can be a lucrative career, if you put in the hard work and follow the right steps. The first step is setting up your blog. This can be done by registering with a blog platform like blogger.com or wordpress.com, and then creating a blog.
Next, start sharing fashion tips and ideas with your readers. Write about different trends, follow fashion news, and post fashion pictures to give your readers an idea of what youre wearing.
Make sure to monetize your blog by advertising on a sidebar or in between posts, as well as by selling products through affiliate links. fashion blogging isnt all about writing great content – its also about taking great pictures!
So make sure to post your outfits so that your readers can see what youre wearing. If you put in the effort, fashion blogging can be a rewarding career that will take you to new heights.
Pick your Fashion Blog domain name:
web hosting provider: bluehost is the right choice for bloggers as it offers free domain name registration and a no-frills approach to blogging, though with some limitations on storage space – you will get 1 GB of space which should be enough for most users; so check out Blue Host and go ahead with your blog now!
Set Up Your Fashion Blog on Bluehost
Fashion blogs are one of the most popular types of blogs today, and for good reasons. They offer bloggers the opportunity to share their fashion-related insights with a global audience.
Setting up your blog on Bluehost is the first step in making it a reality. You can choose from a variety of templates and themes to get started, and once you have done that, you are free to add content!
You can also choose from different blog platforms such as WordPress or Tumblr, both of which offer robust customization options. Once your blog is set up, its time to start sharing your fashion-related insights with the world!
Choose a Theme for Your Fashion Blog
Creating a fashion blog is not as hard as you might think. In fact, by following the simple steps outlined in this blog post, you will have your fashion blog up and running in no time at all! Before getting started, make sure that you have chosen a theme for your blog. Once you have done that, it is time to get started with the design.
Here are some tips to help you along the way: Think about what colors and fonts you want to use, as well as layout and design. – Be creative and experiment with different styles and designs until you find something that looks professional and attractive. – Keep in mind that fashion blogging is all about capturing peoples attention, so make sure your blog looks lively and engaging!
Upgrade Your Fashion Blog with Plugins
Fashion blogging can be a lot of work, but its so worth it when you see the positive response your blog gets. If you are not using any fashion plugins, now is the time to start! There are many great fashion plugins available that will make your blogging life a lot easier. For instance, you can use them to track your sales and traffic stats, and much more.
You can also use them to personalise your blog post content, add social media buttons, and so on. If you are not using any fashion plugins, now is the time to start!
Congratulations! Youve finally made it – your blog is up and running! Now its time to start promoting it! There are a few different ways to do this, but social media is by far the most effective. Share your posts on social media, and write articles for other websites to promote. You can also create giveaways or contest entries to draw more attention to your blog. Make sure to keep creating high-quality content, and your blog will soon be popular!
What to Include on Your About and Contact Pages
Blog post is the lifeblood of your online presence. Make sure that you are writing fresh and updated content on a regular basis to keep your readers engaged. As part of your blogs About page, make sure to include your website address and contact form. You can also add blog posts about your business on the Contact page. By doing this, you will be able to connect with potential customers and partners easily.
Add Your Pages to Your Main Menu
Blog post content is the key to success when blogging. Make sure you write engaging, valuable content that will interest your readers. Edit and proofread your posts before publishing to eliminate any errors, and make sure that all of your blog post links are included in your main menu on your website. By doing this, youll make it easy for people to find and read all of your blog posts in one place!
Write Your First Blog Posts
After completing step 3, you are ready to start blogging! The first thing you need to do is come up with a few topics that interest you. Once you have a few topics, start writing your posts. Make sure they are well-researched and share them on social media and other online platforms to get more people reading them. Be sure to brainstorm some topics that interest you before getting started. Once you have a few posts under your belt, start expanding your horizons and explore different areas of knowledge.
Fashion blogging is a great way to get your name out there and attract potential customers. By writing great content on a regular basis, and promoting your blog through social media platforms, youll be on your way to success. However, its important to select the right product to promote. Once youve got that figured out, its time to grow your audience. This can be done by attending events related to fashion or blogging, and by promoting your blog through social media platforms with good targeting. By following these simple tips, youll be well on your way to fashion blogging fame!
Search Engines
WordPress seo plugin optimize your blog for search engines with all in one SEO, the best word press SEO plugin. it'll help you optimize your entire site for SEO by giving you a tru seo score and a checklist of improvements you can make.
Improve Ranking for fashion blogging?
At the core of it has been content: new and original ideas which will appeal to your readers. Blog post content should be fresh for your target market, helpful in some way or another with its tips and tricks on keeping their style up-to-date – from new trends to how they managed a certain trend you have incorporated into your wardrobe whether those posts are published once per week, twice per week or even every day!
Social Media
Step 5 of the 5 Step Process for Growing a Fashion Blog is to Promote Your blog and Grow Your Audience. social media platforms such as Facebook and Instagram are an excellent way to do just that by building a relationship with your target audience and letting them know about your blog.
Use social media platforms to post interesting fashion-related articles, pictures and videos that will keep your followers hooked. Answer their questions, provide feedback and engage with them on a personal level. Keep in mind that social media is an ever-changing environment, so be sure to monitor your posts regularly to make the most efficient use of this powerful marketing tool!
Email Newsletters
As a fashion blogger, it is important to keep your readers updated on what you have been up to. This can be done by sending out occasional newsletters that are full of valuable, interesting and useful content. The right newsletter will cater to your blogs niche and target audience, while also being visually appealing. By emailing newsletters, you not only promote your blog but also grow your audience exponentially.
It is obvious that affiliate marketing is a booming business, and this is the era of affiliate marketing. The best part about affiliate marketing is that you can make money from your fashion blog.
The best fashion bloggers can earn from 5 dollars to 100 dollars per post, which is not a small amount. If you have a good following on social media, you can make a lot of money from affiliate marketing.
Fashion bloggers use the blog to promote the brands they use and recommend. They also use the blog to share their opinion and views on fashion and lifestyle trends and products. You can monetize your fashion blog by earning money from your blog.
You can do this by offering your products and services on your blog. You can also write reviews on products and share your views on fashion and lifestyle trends on your blog.
Fashion blogging is a fun way of gaining real money, but you have to be willing to work hard at it. The most effective way to get paid is to install Google AdSense on your site and in your email newsletters, and I use FeedBlitz.com as my newsletter distribution service. The AdSense program will pay you when people click on ads you create.
You can make money from your blog. It's called blogging for a reason.
There are many ways to monetize your blog and you can choose the one that works best for you, but we have listed some of the more popular ones below:
This is a big one. Fashion blogging is not about the blog itself, it's about building your brand and making money from it.
So how do you make money? There are two ways: selling advertising or selling products (also known as affiliate.
Finally, you need to monetize your blog so that you can make money from it. The way you do this will depend on the type of content you're producing and how much time and effort goes into creating it.
If you've made it this far, congratulations! You've built a blog that's getting attention from people who love fashion. Now you need to make money from it. There are several ways to do this:
Advertising/Sponsorship
F ashion blogging is a great way to gain some extra spending money, but you have to be willing to shell out a bit of cash. You can work with advertising companies who will pay you for placement of their ads on your blog or for product reviews (although this usually involves giving up some creative control).
Selling Merchandise
If you're into sewing and make your own clothes, selling merchandise from your blog could be an option. There are several companies (both online and offline) that would be interested in carrying your products.
Selling Services
If you have a creative talent or know something about fashion that other people might be interested in, you could offer your services as an expert consultant or ghostwriter.
Fashion industry is one of the most important parts that make fashion and beauty industry. The profit margin in this industry is lower than other industries like IT sector or Banking Industry but it still remains as a high paying career opportunity.
Fashion bloggers are hired by designer houses, brands, and trade magazines to post on their official websites under a blog section titles such as "Style Blogger" & also product reviews where they get paid different amounts according to their quality of posts; Some blogs ranked good profits may be paid up to $2000 per month.
Bloggers who are good with photography and styling can work for fashion magazines as Fashion Stylist, working along with a team of Photographer and Editor. The average salary for an entry-level fashion stylist is around $45,000 annually although there are many jobs out there that pay much higher amount depending on experience level and skill set of the individual.
The influencer marketing is an alternative for the traditional influencer advertising. You can define your target audience by geography, demographic and other factors through influencers' own Instagram profiles, which could help increase social media engagement. Influencer Marketing is a much cheaper alternative than celebrity endorsements or print ads in magazines because it works across devices such as TV and mobile platforms alike making it reachable to millions of potential customers instantly without any limitations on their choices.
Becoming a fashion blogger gives you the ability to showcase your own fashion taste, style and personality on the Internet. Fashion bloggers can get paid by companies or organizations that want their products featured in an online fashion blog.
What do you write in a fashion blog?
Writing for a fashion blog requires the same level of creativity and fluency in language that you would use when writing about any other topic. However, because style is such an important component of fashion, your writing should be crisp and on point. You should also pay close attention to current trends so that your content feels fresh to readers.
When it comes to topics, there's no wrong way to write about clothing or styling. But some common themes that are often covered include reviews of new clothes releases, how-tos on various DIY projects related to fashion (such as jewelry making), tips on dressing for different occasions or climates, and interviews with top industry professionals.
Above all else, make sure your content is well-researched and provides valuable information for readers who are interested in learning more about fashionable styles.
How can I create fashion blog?
When you start a fashion blog, one of the first things that you need to do is come up with an idea for a topic that interests you. This can be anything from runway trends to your favorite style bloggers. Once you have a concept, the next step is to find out what clothes are currently in style and buy them accordingly.
Next, it's important to track your progress and share your insights with readers on a regular basis. Write about different styling tips and tricks, as well as product reviews if applicable. And lastly, stay engaged with social media platforms like Instagram and Twitter so that people can follow along at their convenience.
By taking these simple steps, you will be well on your way to becoming a successful fashion blogger!
How does fashion blogging work?
Fashion blogging is a great way to connect with your consumers and showcase your unique style. It can be as simple as writing about the latest trends or uploading pictures of you wearing the latest designs. Additionally, many fashion bloggers also blog about lifestyle topics such as beauty, nutrition, fashion tips and more.
By becoming a successful blogger, you not only get to share your opinions on popular trends but also earn money from advertising revenue generated through links back to your website. If this sounds like something that interests you, then start by investigating some of the top fashion blogs in operation today. You may be surprised at just how lucrative this industry can be!
A fashion blog is a web site that has content on fashion, accessories and beauty. These blogs share the latest styles, trends in both local and international markets as well as celebrity style choices. Fashion bloggers also provide reviews of products from different designers such as designer brand bags accessories brands etc..
What are your favorite unique fashion blogs?
When it comes to fashion, there is no one right way to do things. So, if you're looking for blogs that approach fashion in a unique or unconventional way, be sure to check out some of the following websites:
1. YesStyle – This blog features creative and interesting outfits from around the world that are perfect for any occasion.
2. The Zoe Report – If you love high-fashion photography with a splash of color, then this blog is for you. Itfeatures beautiful shots taken by street style photographers all over the world.
3. The FAB Bags – This blog is all about finding the perfect bag for any outfit, no matter what it may be. From clutches to small shoulder bags, this website has something for everyone.
4. The Girl With The Glitter Hair – If you love fashion that stands out from the crowd, then you need to check out this blog! Not only does it feature unique and stylish outfits, but its founders also share their personal stories and inspirations behind every outfit.
5. Apartment Therapy – This blog features stylish and practical home décor tips that are perfect for any fashion-savvy individual. From how to add a pop of color to your walls to organizing your closet, this website has something for everyone!
Congratulations! You've finally created your fashion blog! Now it's time to start monetizing it and growing your audience.
Here are the six steps that will help you achieve your goals:
Step 1: Find your fashion niche,
Step 2: Choose a Web Hosting Service,
Step 3: Set Up Your Fashion Blog,
Step 4: Create Content and Start Blogging!,
Step 5: Promote Your Fashion Blog and Grow Your Audience,
Step 6: Monetize Your Fashion Blog. Thank you for reading!