Keyword research is a critical process in search engine optimization (SEO). And if you're on the hunt for the most efficient way to conduct keyword research, LowFruits.io should be your go-to choice.
It is a specially developed tool, designed to help you locate untapped keywords that your competition may have overlooked. Plus, it optimizes the identification of easy-to-rank long tail keywords in your niche market.
My Experience Using LowFruits
As a digital marketer with over 12 years of experience, I've tried numerous keyword research tools in my career. Recently, I came across Lowfruits.io and decided to give it a go. And let me tell you, it has exceeded my expectations!

Lowfruits.io offers a suite of powerful keyword research tools that help you find "low hanging fruit" keywords. These are the hidden gems that have low competition but high profitability potential. I've been using this tool for the past few months, and I've already seen several of my posts rank on the first page of Google. I highly recommend Lowfruits.io to anyone looking to boost their SEO game.

One of the standout features of Lowfruits.io is its ability to find multiple low-competition keywords that you can write articles about. It takes your seed keyword or wildcard terms and scans the search engine results pages (SERPs) to see if high authority sites like Reddit, Quora, or Amazon are ranking for those keywords. This gives you valuable insights into the keyword difficulty and helps you determine if it's worth your time and effort to write an article on that topic.
Pros


Awesome interface: modern, slick, and fast loading.


Credit/tokens system: a great way to do keyword research.


Excellent blog: provides valuable insights into niche site building and SEO.


Wildcard search option: uncovers incredible keyword ideas.


Expert owner: Paul S clearly knows how to build successful niche sites and shares his knowledge within Lowfruits.io.


Saves time: identifies low-competition keywords for quick ranking opportunities.


Cons


Small learning curve.


Tutorials could be more robust.


Too many great keywords to write content for!


Overview of LowFruits.io Keyword Research Tool
The LowFruits.io keyword research tool lets you uncover and analyze SERPs in bulk, saving you an incredible amount of time. With this tool, not only are you equipped to identify weak keywords, but you can also group keywords that share similar intent.
LowFruits.io optimizes search results through website type detection, word counting, and other advanced features. The tool's ability to analyze user-generated content is crucial in understanding where your weakest competitors rank in top positions. Furthermore, with its wildcard search feature, discover combinations of keywords your competition might miss.
In summary, LowFruits.io is revolutionizing the way you conduct your keyword research, bringing you a step closer to becoming king in your niche. 
How to Use LowFruits.io
If you're seeking a tool that takes the heavy-lifting out of unearthing low-competition keywords, you've come to the right place. In this section, we will discuss how to use LowFruits.io, a fantastic keyword research tool lauded by SEO professionals worldwide.
Step-by-step guide on using LowFruits.io for keyword research
Step 1: First off, navigate to the LowFruits.io homepage. Next, use the search box to enter seed keywords related to your brand, products, or services.
Entering seed keywords and selecting filters
Step 2: After entering your seed keywords, you have an option to apply certain filters for accurate results. Filters may include the specific region, language, or desired search volume.
Generating a comprehensive list of keywords
Step 3: Once you've keyed-in your details and preferences, click the 'run report' button. In a matter of seconds, LowFruits.io will generate a comprehensive list of low-hanging, competitive keywords. These vital keywords are not only attainable but also invaluable in giving your SEO strategy a competitive edge.
Put simply, LowFruits.io transforms the complex task of keyword research into a straightforward, efficient process. [3][4][5][6][7][8]
Analyzing Keyword Data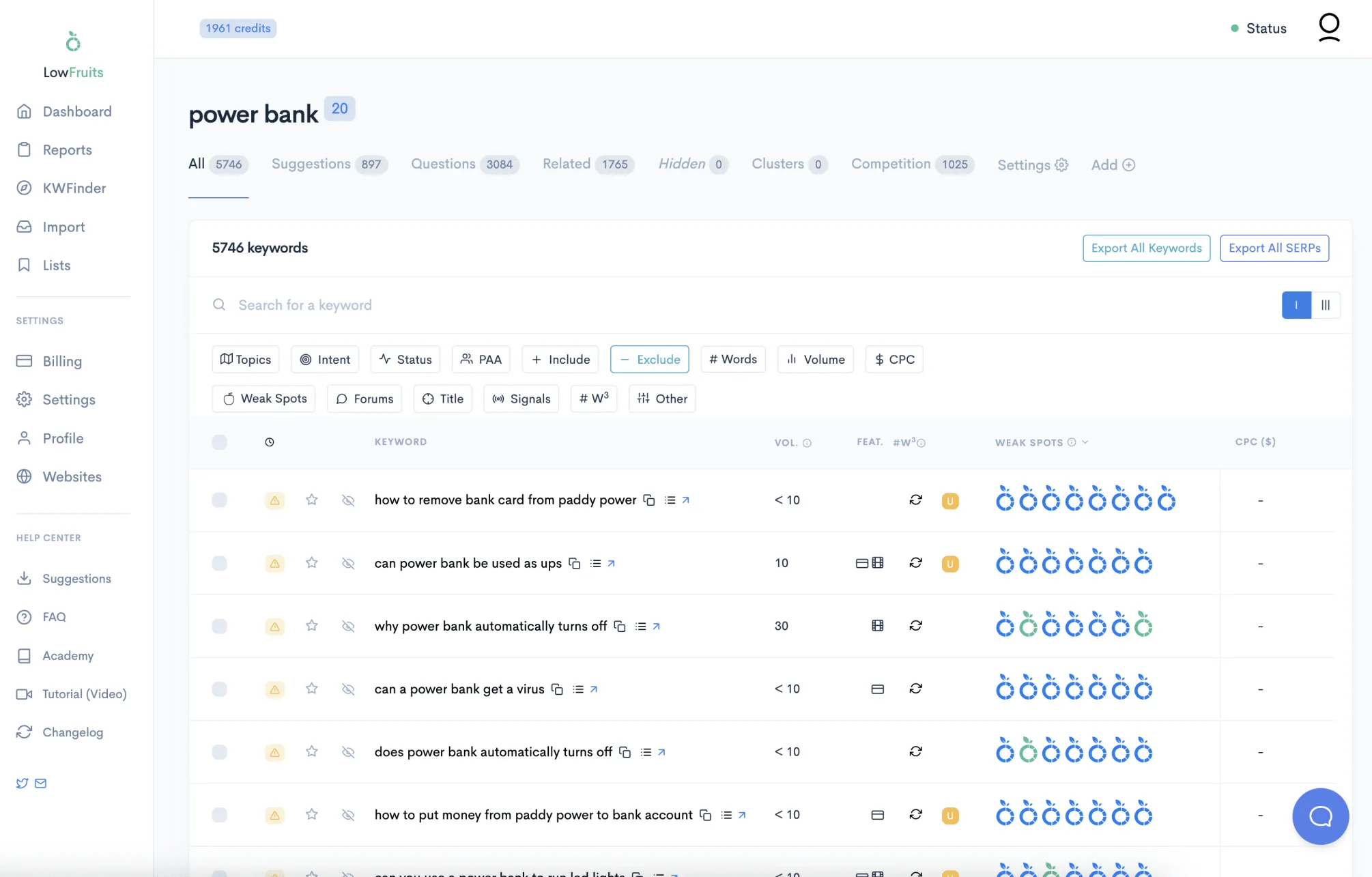 For an effective SEO strategy, understanding and analyzing keyword data is paramount. One key tool that comes in handy for this crucial task is LowFruits, a game-changer in the field. It provides deep distinctive insights that are often overlooked by other keyword tools.
Understanding the keyword analysis report
LowFruits provides comprehensive analyses highlighting several data points including content word count, title match, type of websites ranking, and the domain authority of competing sites. This provides a lucid view of the competition giving you an edge to optimize and position your content for higher rankings.
Filtering keywords by intent, suggestions, questions, related clusters, and competition
LowFruits makes analyzing keyword data a breeze by providing easy options to filter keywords. By refining your search results as per user intent, related clusters, and competition, you can strategize and streamline your content development process.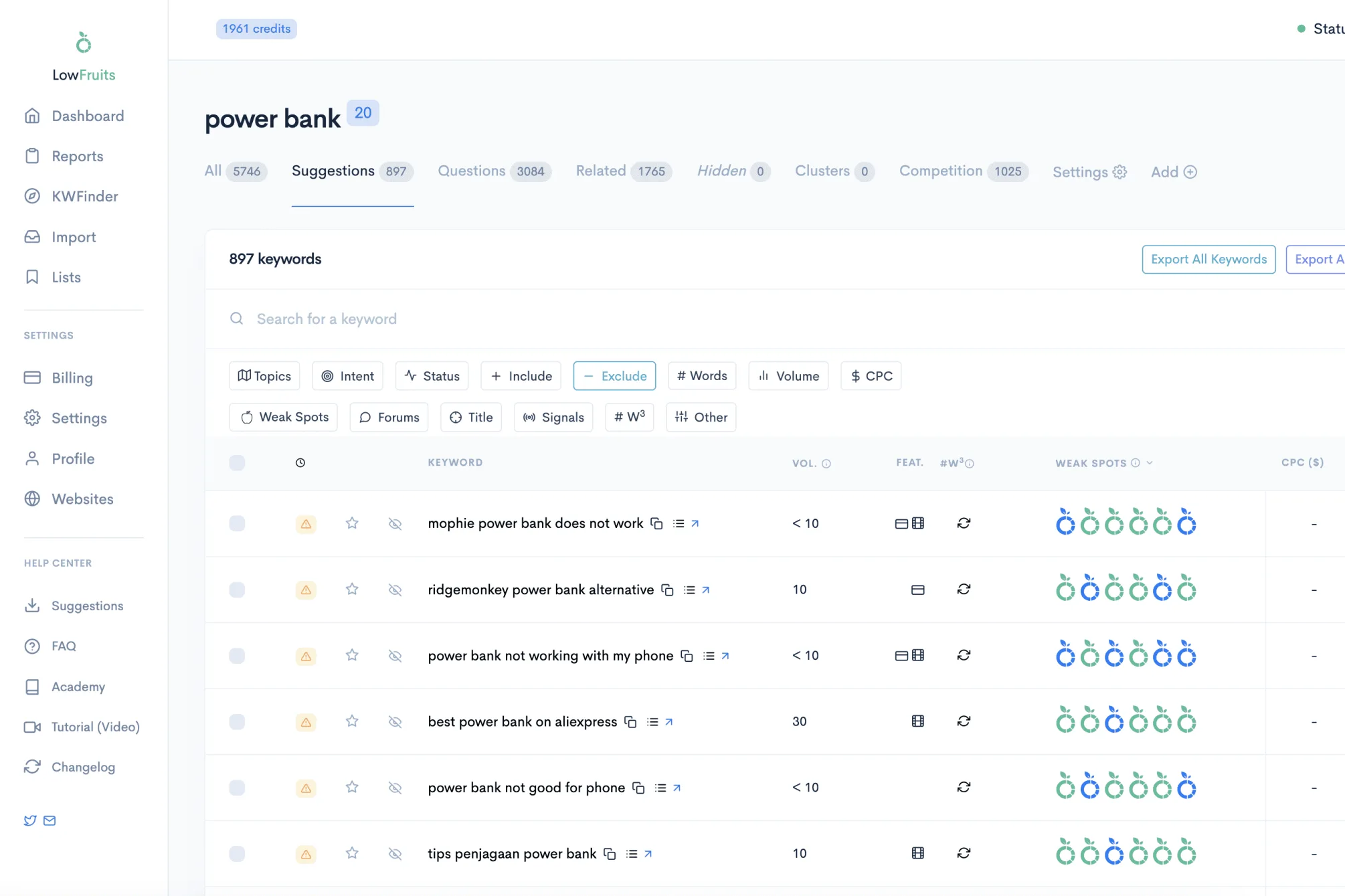 Identifying weak spots and easy-to-rank keywords
By revealing user-generated content (UGC) websites and weaker competitors ranking in top positions, LowFruits uncovers weak spots in the SERPs and provides an excellent opportunity to rank by targeting these easy-to-rank keywords. By leveraging these weak points, you can craft content that effortlessly outranks competitors. Indeed, LowFruits is a digital marketer's best-kept secret in finding the low hanging fruits in keyword research. 
Competitor Analysis with LowFruits.io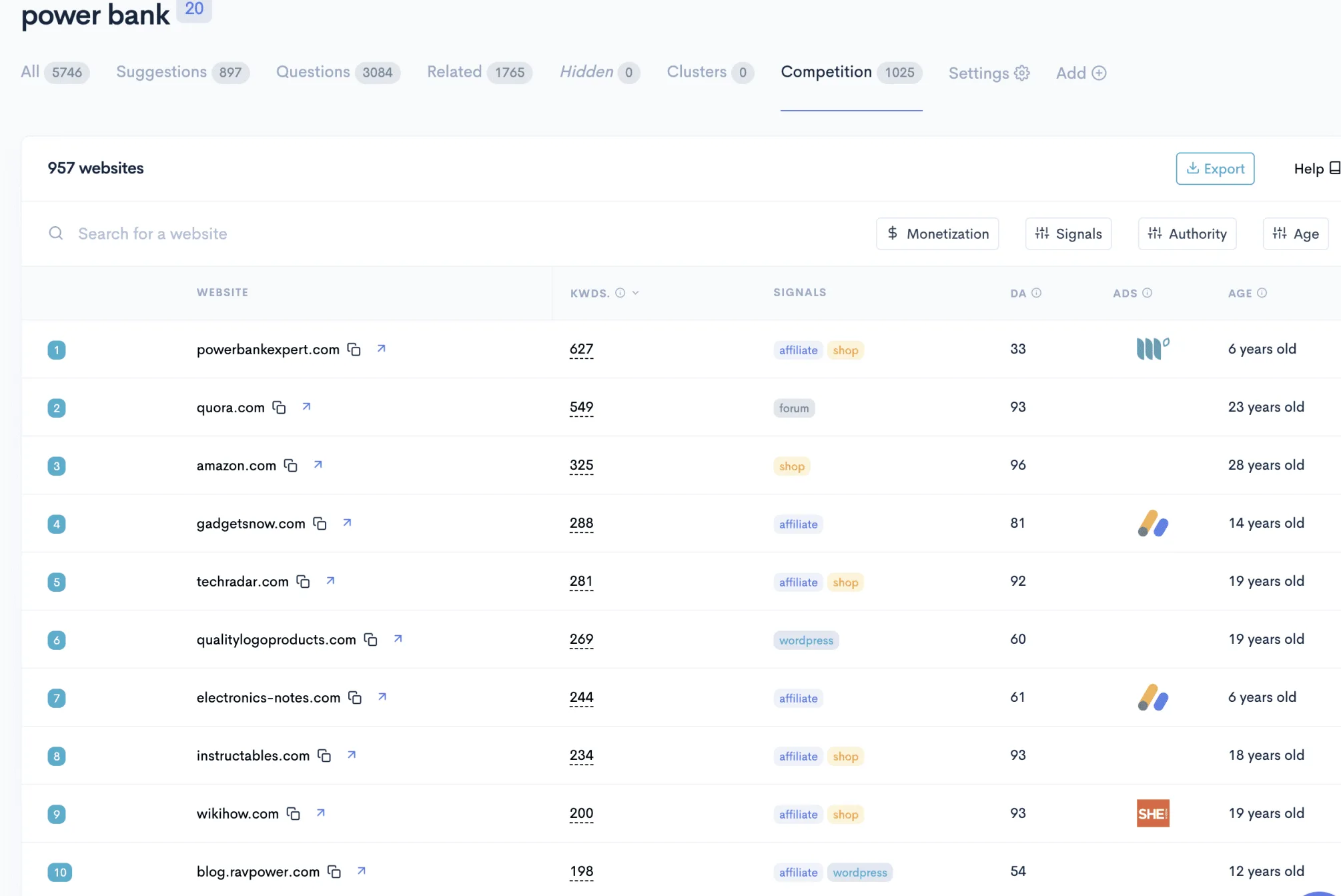 As a premier keyword research tool, LowFruits.io provides a streamlined approach to analyzing the competition in your niche industry.
Exploring the competition tab and analyzing direct competitors
Who are you up against? Navigating the competition tab on LowFruits gives users a glance at the powerhouse players in their niche. Scrutinizing the strategies employed by these competitors can offer invaluable insight into industry trends and standards—insight you can utilise to improve your own tactics.
Extracting keywords and sitemaps from competitors
Level up your SEO game by making the most of LowFruits's feature to extract keyword and sitemap data from direct competitors. This tool offers the opportunity to ride the wave of proven strategies by studying the content and keywords used by successful competitors.
Analyzing top-performing websites in your niche
Stand on the shoulders of giants with LowFruits's feature to analyze top-performing websites. This analysis highlights sites with low authority but high traffic, allowing you to identify potential opportunities to assert your brand's presence and carve out your own slice of the market.
Importing Keywords for Analysis
After introducing you to the power of LowFruits in your keyword strategy, it's time to dive deeper into its key features. One essential function you'll love is the ability to import keywords for analysis.
Using the import feature to analyze a list of keywords
Relax: No need for manual analysis anymore. With LowFruits.io, you can speed up your keyword research by importing your own list of keywords for Bulk SERP analysis. This user-friendly feature allows you to load keywords, allowing you to analyze larger data sets in bulk swiftly and with ease.
Simply visit the "Import" tab on the dashboard, upload your list, and let LowFruits do the heavy lifting for you. You can start identifying valuable keyword clusters, detect weak competitors, UGC websites, and more. Maximize efficiency and save time by leveraging this feature with LowFruits.io.
Downloading and Saving Keyword Data
When it comes to streamlining your SEO efforts, nothing can be as empowering as having a competent tool by your side. One such reliable tool is the Lowfruits Keyword Research tool.
Given its dynamic capability, with this tool, you can download all your keyword data – directly from Lowfruits – to aid in your SEO campaign organization. This effectively serves as a one-stop-shop for all your keyword data with easy to use interface that saves you valuable time.
Exporting keyword data to a spreadsheet for future reference
The Lowfruits tool also lets you export your keyword data to a spreadsheet, allowing for seamless integration with your existing SEO documentation. This feature is particularly useful when tracking and comparing your ongoing keyword research strategy over time or when needing a reference for future keyword implementation. Importantly, it enables you to revisit your keyword data at any point, making the process of data analysis and decision-making more efficient and fruitful.
Remember, search engine optimization is a continuous process, and the ability to reference past data is essential for making consistent strides in your SEO efforts.
Pricing and Subscription Options
Navigating the cost landscape of keyword research tools can sometimes feel like a voyage through a sea of over-priced sharks. This is where LowFruits springs a pleasant surprise. The affordability of their pay-as-you-go credit system is a breath of fresh air amidst those monthly subscription plans that you hardly utilize completely.
Overview of the pay-as-you-go credits system
Under their credit system, LowFruits operates within the perimeter of fair pricing. Simply put, you only pay for what you need. You kick off your journey with a modest $25, which systematically translates into credits that you fuse into your research.
Whether you need to analyze 25 or 2500 keywords, you can pay for the exact volume you need. Plus, you have the flexibility to control your expenses without compromising on the range of features available for use. Your balance only goes down when you find keywords worth pursuing. When you're low on credits, just top up your account and sail on! It's all under your control.
Conclusion
It's a wrap! You've now got a detailed look into LowFruits.io, a powerful keyword research tool. Let's sum up with some final thoughts.
Final thoughts on LowFruits.io as a valuable keyword research tool
LowFruits.io is definitely worth considering for any digital marketer or website owner. The winning combination of affordability and effectiveness is what sets it apart, not to mention the robust features that cater to both beginners and seasoned professionals. By using this tool, you can uncover a rich array of low competition, long-tail keywords that can potentially drive the organic traffic your website sorely needs.
A word of caution, however: pay heed to the number of credits you use, as these can dwindle quickly. Regardless, LowFruits.io is a fantastic tool that provides value for money. Give it a try and see if it helps you in confidently navigating the labyrinth that is keyword research.