In this WriterZen Review, we will finding high volume and low competition keywords. To rank your website in Google, the every first steps is research keyword and search intent.
WriterZen Keyword Research is a custom keyword research tool that helps you find long-tail keywords that are relevant to your business.
With Keyword Golden filter you can do exactly that, making your brand new blog rank Google SERP's in short amount of time.
Further more WriterZen also allows user to generate relevant content by research NLP terms.
My Experience Using WriterZen
I have been using WriterZen for a over a year now, and I must say, it has truly transformed my content creation process. The tool's ability to provide valuable insights into search trends and competitors is simply remarkable. It streamlines the entire research phase, allowing me to gather in-depth information on specific topics without wasting precious time.

One of the standout features of WriterZen is its powerful SEO analysis capabilities. It helps me identify high-ranking keywords and optimize my content accordingly, ensuring that my articles are well-optimized for search engines. This has greatly improved the visibility and reach of my content, ultimately benefiting my overall SEO efforts.

The keyword research functionality of WriterZen is also worth mentioning. It allows me to identify keyword clusters and discover multiple keywords that work together, enabling me to create a series of articles that are interconnected and strategically targeted. This approach has been incredibly effective in boosting my website's organic traffic and attracting a wider audience.

In addition to its research and SEO features, WriterZen offers a content brief tool, which is like having a personal assistant guiding you through the writing process. It provides a clear and concise outline of what needs to be included in the content, ensuring that I cover all the relevant points and deliver valuable information to my readers.

While WriterZen does have a few drawbacks, such as its pricing structure and limited integrations with other tools, I believe that the value it provides outweighs these concerns. The investment is definitely worth it, especially for businesses or individuals looking to enhance their content strategy and improve their SEO efforts.

Overall, I highly recommend WriterZen to anyone involved in content creation or SEO. Its powerful research capabilities, SEO analysis features, and content optimization tools make it an invaluable asset for streamlining the content creation process and maximizing SEO efforts. Give it a try and experience the difference it can make in your content strategy.
Pros


Pros:




Streamlines content creation process


Provides valuable insights into search trends and competitors


Powerful research capabilities


SEO analysis features


Helps create optimized content quickly and easily


Improves the quality and visibility of content


Assists in identifying topics to be regarded as an authority


Filters keywords with low competition based on allintitle


Estimates profit potential for ranking on the first page


Content brief with actual keyword research







Cons


Pricing structure may be prohibitive for smaller businesses or individuals


Limited integrations with other tools


Learning curve to fully utilize all features


Slow keyword display and unresponsive user interface


So How To Rank Your Website In Google?
You have to find appropriate keywords that fall under a lot of the same topics.
For example, if you're starting up a new bakery for example, your keyword research tools need to be able to allow you to view keywords along with their search volumes and other relevant information – including competition levels perhaps.
The best kind of keyword tool will help you gather all kinds of relevant data that is crucial in the keyword research. Most importantly, it will help you group similar keywords together which will create parent topics that show the intersections between various keywords related to your niche.
This can also be accomplished with WriterZen's keyword explorer.  When you start write article about all this topic, and google sees you as authority in the niche.
I've been impressed by Writerzen's flexibility. Keyword research is a fantastic way to get reliable Ahrefs statistics. The search capabilities are also quite advanced. In reality, I've already used the Google feature to rank several entries.
It is feasible to layout your material for your blog posting using Writerzen's Auto-Clustering. To get the relationships between your target keywords and niche, it combines artificial intelligence and Google's NLP. Before Google recognizes you as "topical authority," it expects to see certain keywords in your content.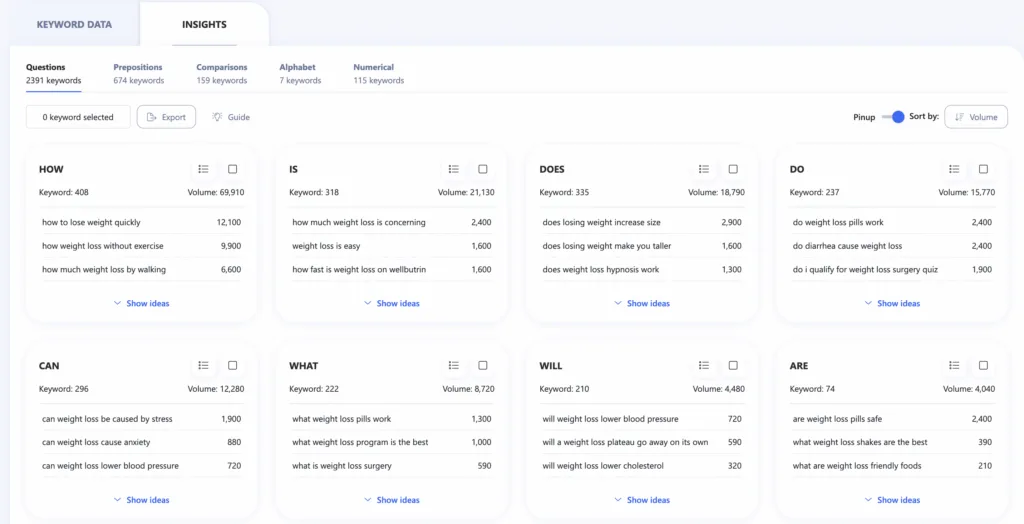 Additionally, since you're subject to keyword cannibalization, you don't want to blindly write content. You'll get one keyword ranking on multiple posts if you didn't do a decent job planning your blog. As a result, you should have done a better job creating material. Your traffic and attention are being siphoned away from one page by your own posts.
WriterZen also helps content creation the interface and layout is quite strong, making it one of the best content creation tools out there today. User-friendly makes content creation quick and easy by letting you do more with less effort in a way that doesn't require too much technical knowledge or ability to learn on your own two feet.
However, When building a content outline from competitor data, the Content writing module appears to be hit on occasion. The current UI is difficult for a new user to understand, which requires further improvement.
If you just want the best AI Writer for blog i recommend you check out article about best AI Writing Software for SEO content, it create more relevant and ability to fact check content.
This tool is now a must-have for every SEO professional, since they have released the AI functionality/add-on.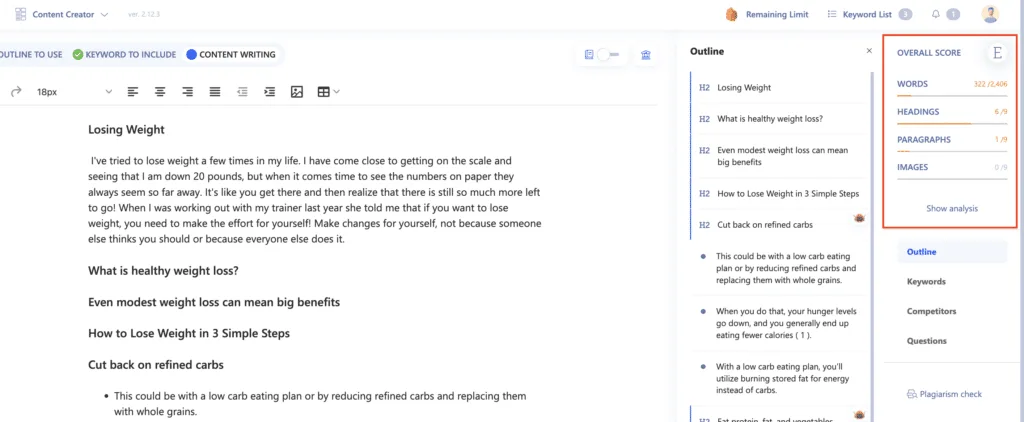 Content Creator
Set up structured standard SEO material, create material from a limitless supply of ideas, and easily share specifications for collaborators. Manage the quality of originality content.
Build Outstanding Content with Ease: Get everything you need to create epic content at your fingertips in one place. We've got state of the art real-time suggestions from the top 20 ranking pages for the seed keyword – so getting inspired is easy! You'll be able to pinpoint new angles, strategies and insights on how to best position your website based on exactly what has worked for your competition. The outline can then be adjusted as many times as you'd like until it scores highly!
Easy To Use Text Editor: that offers an enjoyable writing environment. The robust text editor has many features and is easy to use – ensure clarity by using live suggestions to guide you as you write, improve your writing skill with the help of sophisticated editing tools, take advantage of the full-screen mode and save your work directly to the cloud-based service for future editing purposes.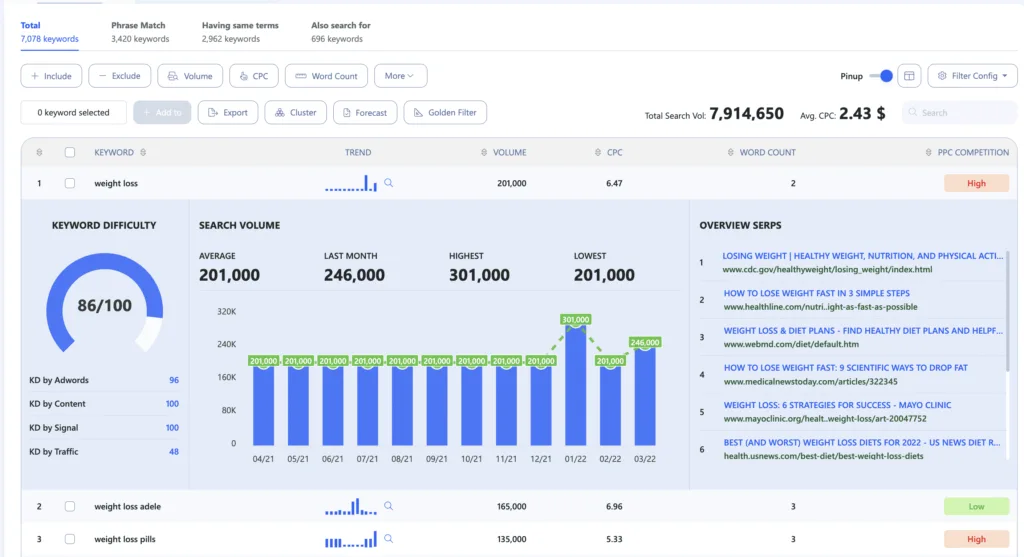 Keyword Explorer
Give keyword research the right direction by giving complete details on the size of the market, the degree of intricate competition, and user search intentions.
Get a list of viral headlines, questions, keywords, and more from the top 100 urls to choose from!check for topics related to your search to uncover new ideas for your content.
Most Of Keyword Research Tool
Search Volume: Over a 12-month period, the average number of monthly searches for a given keyword. You can assess the frequency of keywords.
Keyword Trend: The level of interest in a search query over 12 months. Enables you to see how often a keyword has been Googled over the last year.
Cost Per Click: The average amount an advertiser pays to have a website link displayed on Google search results. You can see how much different keywords are costing you in terms of AdWords clicks.
Keyword Difficulty: The degree of effort required to outperform one's competitors (in percentage). From the top 20 URLs, use this to discover the most popular keywords relevant to your seed.
WriterZen Advance Keyword Research
Allintitle / GKR: This is a keyword of all the pages tittle in the top search engine results that include the header tag. Use this to check through the competition and change your content strategy quickly. sort results by metrics such as search volume, headlines relevance, and topic insights for more convenience.check for topics closely related to your search to uncover fresh perspectives for your content.search for your keywords of interest and get a list of viral headlines, questions, phrases, and more!
Keyword Golden Ratio / KGR: keyword golden calculator helps you find keywords with low competition that have high search values and potential to rank on search engines. It also shows the estimated monthly traffic from search engines with 99% accuracy.
Keywords Cluster: Group your closely related keywords into keyword clusters to rank your content. Then use different keywords from the same clusters to optimize your content. Make sure to choose keywords that are automatically grouped by relevance using our patent-pending AI of Writerzen.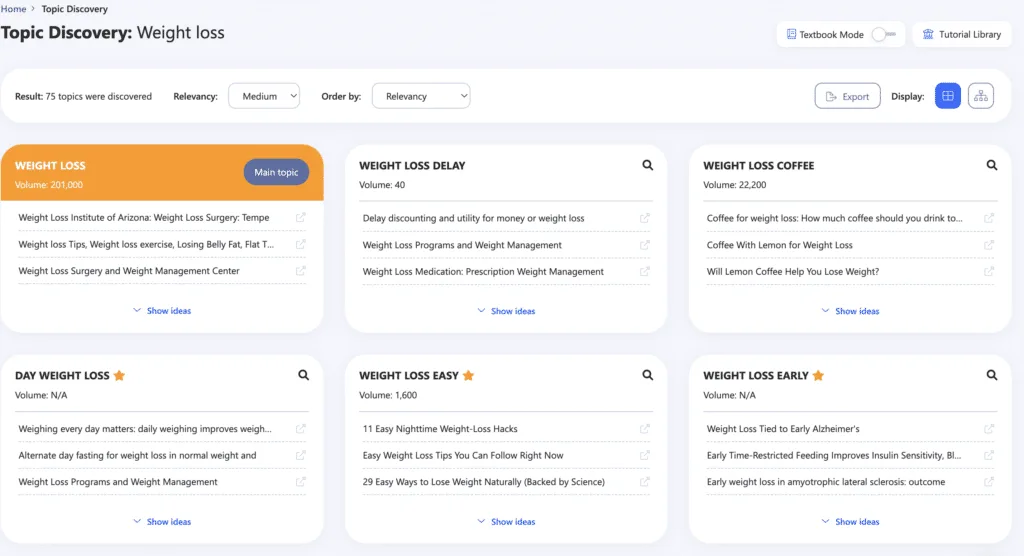 Topic Discovery
Understand customer concerns and find the greatest title from content gap analysis with this list of hottest hot trends and headlines. Research fresh subject ideas and generate winning material for your content strategy by finding relevant topic suggestions based on your consumers' demands.
By focusing on certain topics, you may build content clusters. The relevance score or search volume will be used to calculate your topic. not only subjects, but this module also provides you with a pre-defined list of blog post headlines that you may employ. Now you have the chance to spend less time researching good topics to write about on your blog and more time writing content.
Question Your Audience Asked: The Writerzen helps you generate ideas quickly and discovers gaps in your knowledge as well as that of your competitors. It looks at a number of different topic based on questions in search, and comparisons people are making about topics related to your seed or projects.
We may precisely what individuals are curious about on any given topic by identifying the things that excite them. When it comes to generating new high-quality content that continues to add more value above the rest, we may also see which sections other services have covered, but not too deeply, giving us options around more effective methods.
keyword Importer
Using allintitle or kgr, you may import keywords that have been researched for analysis. It has a simple user interface that is easy to use. It takes just a fraction of a second to transition between workspaces and produce new material. Keyword entries can also be imported from a csv or txt file, in addition to being entered in the keyword section.
You must first register on WriterZen in order to use the service. After that, log into the account.
This is how you'll see it the Dashboard, Topic Discovery, Content Creator, Keyword Explorer, Plagiarism Checker, and Keyboard Imposter are just a few of the options available on the left panel.
Topic Discover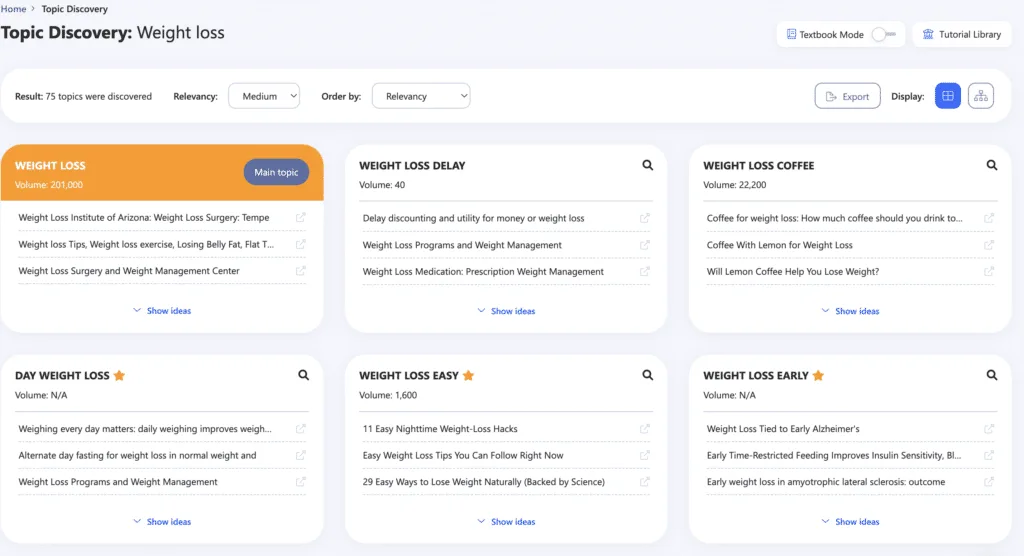 Help you write content with this search engine and topic discovery tool.
STEP 1: You can enter topic discovery terms on your content.
STEP 2: Analyze the top keyword websites to produce content topic reports.
STEP 3: To begin creating content for your website or blog, choose the appropriate topic and connect it with Content Creator.
Content Creator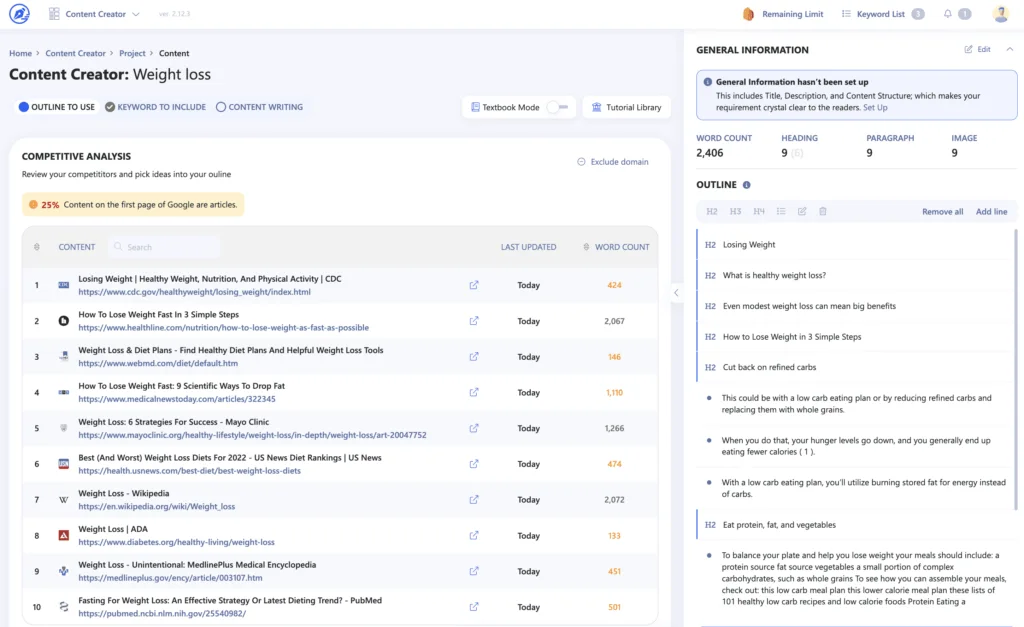 Analyze your top competitor's website in Google for a content outline.
STEP 1: Enter the keywords to build the content outline.
STEP 2: Get suggestions content outline based on analysis of top-ranked websites.
STEP 3: Customize content settings adjust number of heading & word length.
Keyword Explorer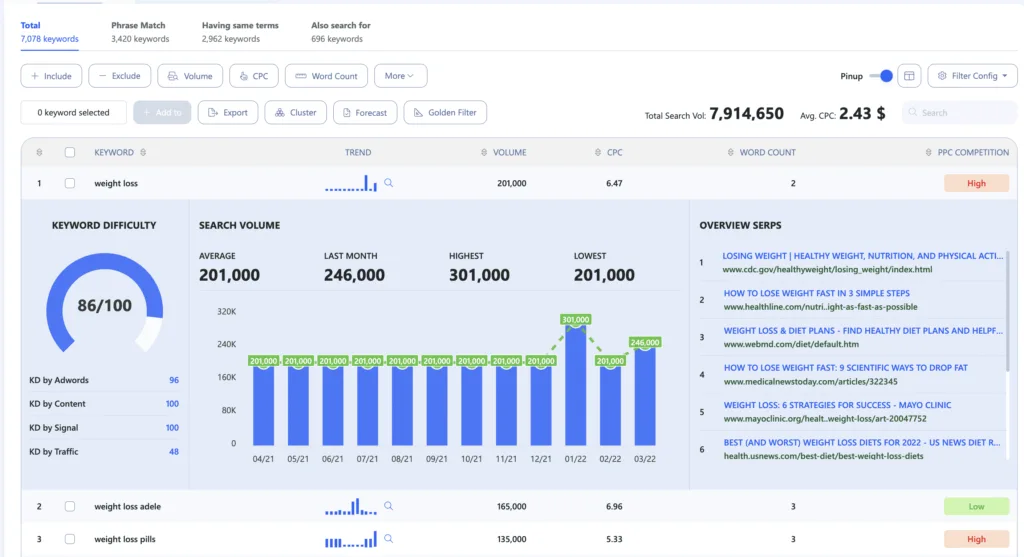 Synthetic keyword research tool, directly getting data from Google Data.
STEP 1: Enter the keywords, then select the location and language.
STEP 2: View keyword data on searches, competition, CPC, volume and other metrics over a year.
STEP 3: Select from main keywords, associated keywords, and add-ons. To obtain useful information, sort and filter the data.
Plagiarism Checker
Avoided plagiarism content checker by using the plagiarism checker.
STEP 1: To check for plagiarism, add projects name and content.
STEP 2: When you are checking websites, use the exclude option to get plagiarism check results.
STEP 3: Exclude irrelevant URLs by providing information on each URL that matches plagiarized material.
WriterZen provides 3 pricing plans, and even one time payment for token.
Basic Plan: $39/per Month Great for blogger handling single project work.
Standard Plan: $59/per Month Ideal for teams working on multiple projects.
Advanced Plan: $99/Month best for agencies & big digital marketing firms.
Like:
Writerzen will discover a topic of associated keywords and ideas (foreign articles) based on what you might write if you enter a keyword that is linked to your company.
Keyword explorer: this tool allows you to investigate the keywords that you want to rank for in depth. Very thorough and valuable information! The KGR (Golden Keyword) app is a unique find among comparable apps, and it makes it simpler to see high ranking chances by simplifying your keyword research.
By comparing blog posts to the best-performing blog posts of competitors, SEO optimize will rank them. Furthermore, it has brilliant AI text that can help you create very simple blog posts by piecing together important parts.
They provide step-by-step video instructions (and why!) in great detail. Now that I've learned more about SEO and SERP, I feel much better. That may be the greatest feature of the whole package.
Dislike:
I think that in order to meet the criteria and be satisfied, the artificial intelligence (AI) content writer is not yet skilled enough. Additionally, the best experience requires increasing limits.
The program was created to assist you build the best outline, after which you may proceed to produce more substance posts by working from the skeleton.
You can highlight text to provide it context or have the AI write from the context of the entire page using the writing helper. The ability to influence the AI with more precision is provided by strict context.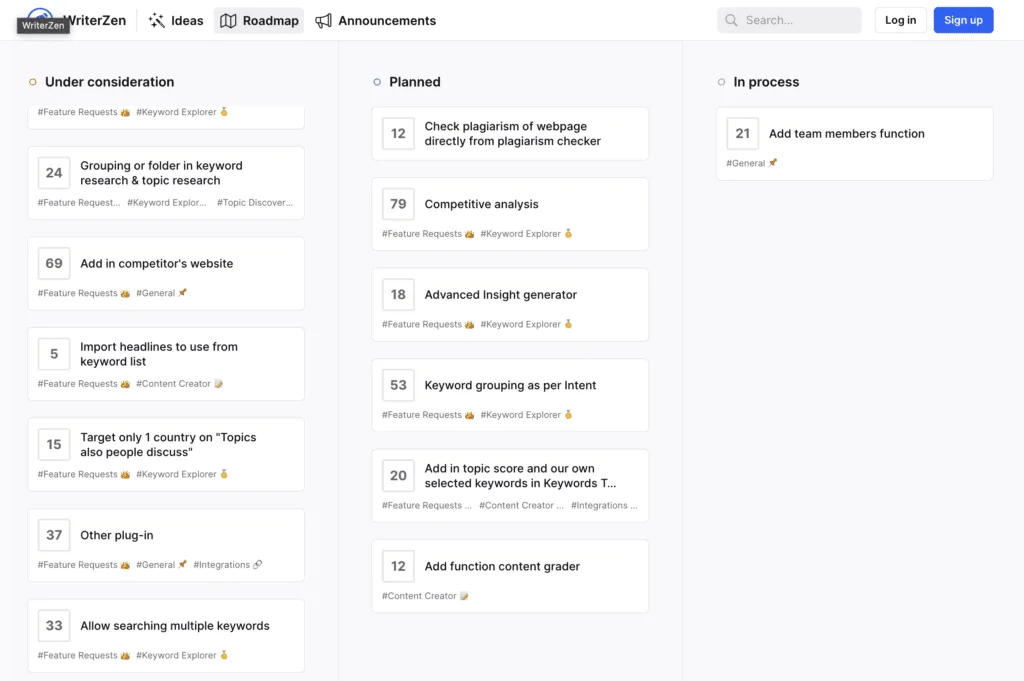 WriterZen also working numbers of feature and will be release for future updates.
Google Search Console GSC Integration
Ability show more information like Ahrefs, rank, backlinks
Able Grouping or folder in keyword research & topic research
Exclusion some competitor's website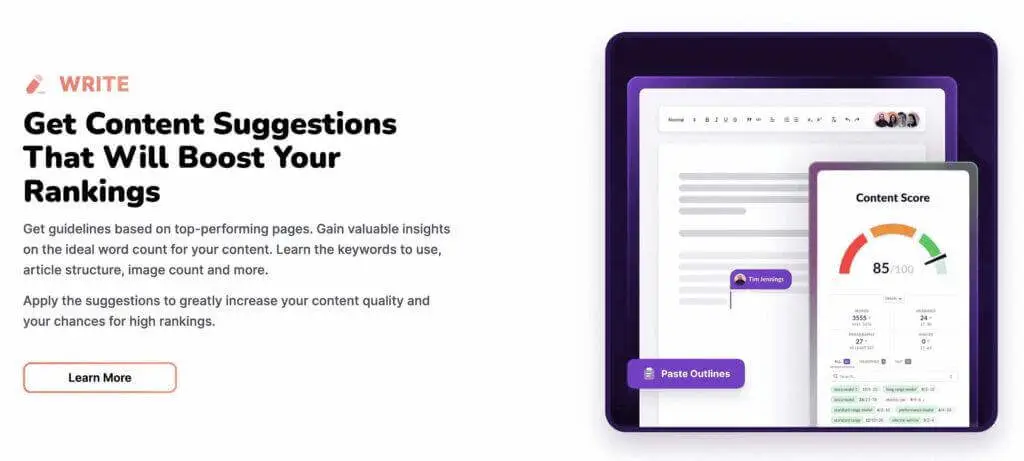 If you are looking for WriterZen alternatives, then some of the best options for you are SE Ranking, or Surfer SEO.
SE Ranking is a program that offers keyword rank tracking and Surfer SEO is all in one SEO Tool and teaches you how to rank your blog posts on Google. Both programs offer great value, and both have high reviews from satisfied customers.
The WriterZen Auto-Clustering feature allows you to plan out your blog post's content. To discover the relationships between your target keywords and niche, it employs AI and Google's NLP. Before Google recognizes you as "topical authority," it expects to see certain keywords in your content. Additionally, because you are at risk of keyword cannibalization, you should not blindly write content.
You'll get one keyword ranking on more than one post if you did a poor job at planning your blog, WriterZen is right for you.
After reading WriterZen Review, you are undoubtedly familiar with WriterZen, a powerful keyword research tool that allows users to discover and optimize their keywords for improved traffic and conversions. However, what you may not be aware of is its other impressive features such as Topic Discovery and User Experience. So if you're at all curious about WriterZen, be sure to check it out! You can also read our full review of the product to get a better understanding of its pros and cons. As always, if you have any questions or feedback about the blog, feel free to leave a comment below!
FAQs
What is WriterZen?
WriterZen is a website that provides free resources for writers, including tips on how to write better, advice on getting published, and more. They also offer a writing community where writers can exchange feedback, advice, and ideas.
WriterZen also offers a variety of services that can help writers including content writing, SEO writing, and social media marketing. They also have a blog where they post interesting articles and videos related to writing and the publishing industry.
WriterZen is a great resource for aspiring and experienced writers alike. It can help you to improve your writing skills, improve your chances of getting published, and build connections with other writers. So, why not give it a try today!
How does Writerzen work for content creator?
Writerzen is a content creator tool that gives you the ability to easily create engaging and interesting content for your website or blog. With its easy-to-use interface, Writerzen makes it easy to create high-quality, shareable content that will draw in customers and followers.
Writerzen offers a variety of features that make it perfect for both beginner and experienced content creators.